Digital Technology
---
The application of digital technologies for creating new and enhanced value propositions and business models, as well as the tools and platforms that enable faster and more economic design, development and deployment of such application.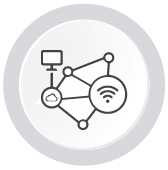 Digital Technology Orientation
---
The understanding and actual use of exponential digital technologies for innovation purposes, both integrated in digital offerings (e.g. disruptive or breakthrough) and in operations
---
Senior leaders understand the opportunities and implications of exponential technologies.
A vision for new digitally inspired value propositions is clearly defined and communicated.
Digital technologies and related capabilities are applied to drive: a) new value-generating offerings and business models, b) improve processes, and c) engage talent across and beyond the organization.
Digital Platform and Capability
---
The holistic configuration of digital technology, process and people to enable digitally-inspired innovations, with an emphasis in the repository of business, data, and infrastructure components reused to rapidly and more economically configure new offerings
---
An agile approach for continuous development and delivery of digital offerings is in place (e.g. DevOps).
Repositories of API-enabled business, data, and infrastructure components developed internally and externally are in place.
Flexible repositories of big data (from sources like sensors, social media, etc.) for analytics are in place.
An effective accountability framework for continuous digital business transformation is in place. Organizational structures or teams for managing digital business endeavors are integrated or linked with top management.
Platform architect is a key role (components owners who can hypothesize, test, and manage functionality of components).