Overview
The Hiffi Expeditions Model is a reference pattern for a collaborative team to make progress rapidly and effectively on its innovation journey by producing results and reducing uncertainty and risk in an iterative and adaptive manner.
It is an end-to-end process approach to innovation that comprises five "expeditions" that allow an entrepreneurial team (independent or corporate) to take a strategic challenge or opportunity and turn it into high-impact outcomes for users, the organization and other key stakeholders.
It builds on best of breed innovation approaches such as design thinking, lean startup, systems thinking, agile methods, and others that are articulated in a clear and consistent manner to facilitate practical execution and a common innovation language for team members and the organization.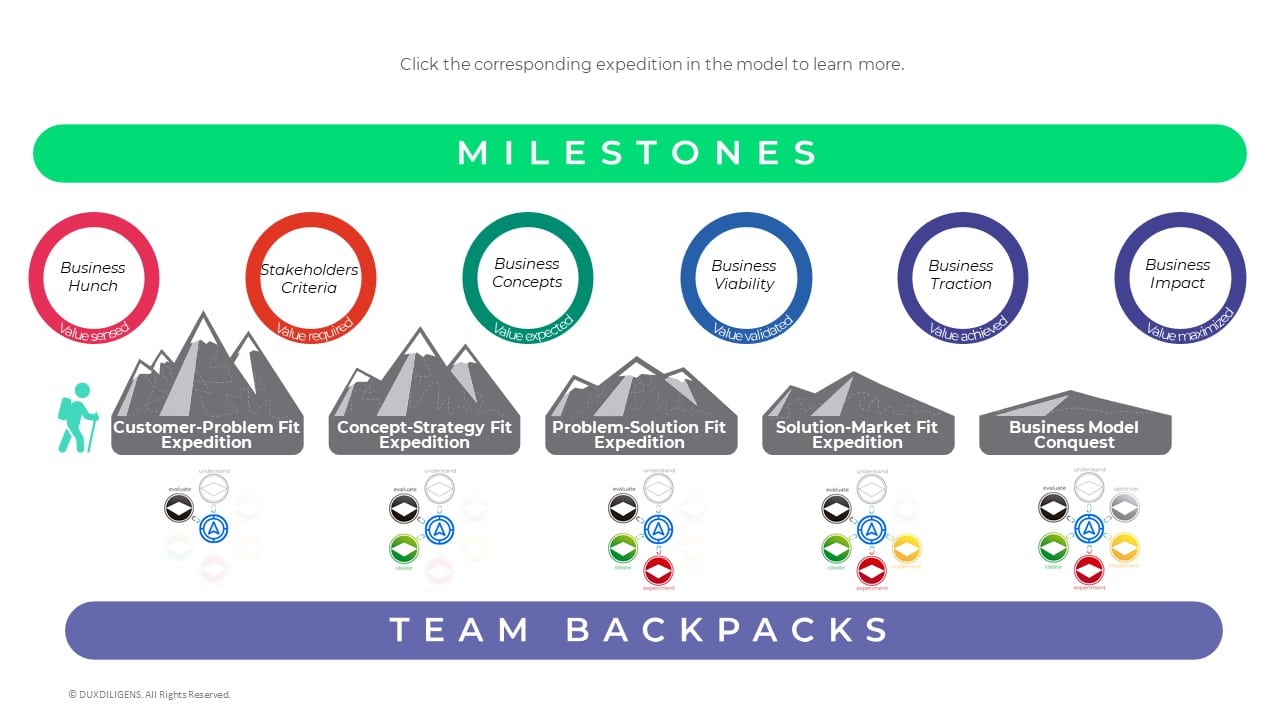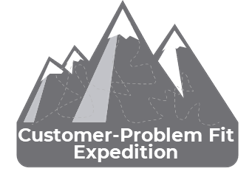 The purpose of this expedition is to rapidly transform a strategic challenge or perceived opportunity (i.e. a "business hunch") into concise criteria of what a customer/user or other key stakeholders really needs, as well as understand what is the organization´s and competitors´ current reality, and where industries and the world might be going. 
The stakeholders criteria and other insights discovered serve as a basis and inspiration for designing and evaluating new solutions in the next expedition: the Concept-Strategy fit expedition.
The purpose of this expedition is to rapidly transform the identified customer/stakeholder criteria into promising business concepts that effectively help customers and other key stakeholders address their unmet needs and achieve their ultimate goals (functional and emotional) as well as help the organization achieve its strategic aspirations (e.g. financial, commercial and social). 
The promising concepts are then validated by rapidly and inexpensively testing their key assumptions in the next expedition: the Problem-Solution fit expedition.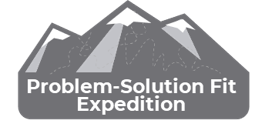 The purpose of this expedition is to rapidly transform the promising business concepts into viable innovation initiatives that can be taken forward by the organization to address its strategic problem/challenge and fulfill its related aspirations.
The viable concepts, validated in terms of desirability, feasibility, defensibility and impact to an acceptable level, can then be developed and deployed iteratively to potential early adopters in the next expedition: the Solution-Market fit expedition.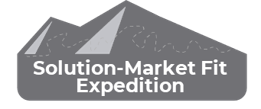 The purpose of this expedition is to transform viable innovation initiatives into business outcomes reflecting successful early adoption (i.e. "business traction") as well as into learnings about how the solution should be built, how value should be created and delivered to customer/stakeholders and how value could be captured by the organization.
The innovation initiatives achieving business traction are then scaled up and optimized in the next expedition: the Business Model Conquest.